Steven Kan's Friends and Family Page
---
Listed alphabetically, not by degrees of separation! Click the names to follow the links.

Albert Chang--(This link is temperamental at times) My old college roommmate is on the ATP Tour! Follow this link to a page with the current rankings and look in the mid 300's. That's where he is currently, but that's way below his ultimate potential. He's got one of the best kick-serves on the tour, and no, he's not related in any way to Michael Chang. Look for him at a tournament near you! Special note for single women: Albert is really great guy!

Tiffany Chin--In my totally unbiased opinion, one of the most beautiful and talented skaters ever to grace the ice. After a few years off to attend UCLA, Tiffany is back and better than ever. For a real treat, click over to her web page and download a QuickTime movie of Tiffany performing a double-axel!


Christine Herron--Fellow MBA from Stanford. She publishes, she cooks, she codes HTML. What a gal!


Kevin Kan--Not really a friend. Just a sibling. (Just kidding). Kevin is the latest model in the Kan product line and a recent graduate of UC Berkeley, that public school across the bay. See here for links to skateboarding and surfing.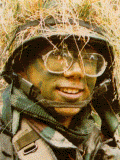 Michael Kan--My older (but not necessarily wiser) brother Michael was my cross-town rival at the Haas School over at UC Berkeley. Now he's an up-state rival of mine at Mitchell Madison Group in San Francisco. See pictures of Captain Kan driving a Hummer through Iraq and Turkey.


Josh Wachman--An old roommate and colleague from my days at Disney. He's now back at Pacific Data Images where he's working on a computer-animated feature film, Antz. Click his head to jump to PDI's page.


Zia Zaman--Fellow student at Stanford with enough free time to build a web page. Technical consultant on this page. Readers beware. Zia is a movie critic and an unabashed fan of Wynona Rider.

---
Feedback? Additions? Want to hire me? Mail me @ steven@kan.org

Last updated: 5/19/96

Revision 2.0

Back to my home page.